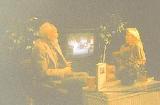 Karen O'Leary with Huston Smith, Author, "The World's Religions"
Produced, co-founded and hosted by Karen O'Leary, "The Quest" is a television talk show with thought leaders and visionaries in the realms of religion, education, social work, philanthropy, psychology, spirituality and bioethics. In its initial year, "The Quest" was reviewed in the press as a program that resembles Bill Moyers' PBS series on mythology and the hero's journey with Joseph Campbell.

Cultivating cultural and cosmic heroism, leadership, integrity, commitment, justice and charity are chief goals for the program. It was also created to promote understanding among diverse faith traditions and inspire in viewers a deeper understanding of and commitment to their own beliefs.
Following are some of the 100 guests interviewed on "The Quest."
Huston Smith, Ph.D, author, "The World's Religions," "Why Religion Matters" and "The Soul of Christianity"

Leonard Shlain, M.D., author, "Art & Physics" and "The Alphabet and the Goddess"

Ron Hansen, Ph.D, professor, Santa Clara University, author, "A Stay Against Confusion" and "Mariette in Ecstasy"

John Beebe, Ph.D, Jungian Analyst and author, "Integrity in Depth"

Michael Ray, Ph.D, professor, Stanford University, author, "The Path of the Everyday Hero" and "Creativity in Business"


Diane Dreher, Ph.D, professor, Santa Clara University, author, "The Tao of Leadership"


Alan Chinen, M.D., psychiatrist, author, "Men at Midlife"


David Spiegel, M.D., psychiatrist at Stanford, Director of the Center on Stress and Health


Jean Shinoda Bolen, M.D., psychiatrist, author, "Goddesses in Every Woman" and "The Ring of Power"


Linda Leonard, Ph.D, author, "Witness to the Fire - Creativity and the Veil of Addiction"


Sylvia Boorstein, Ph.D, co-founder of "Spirit Rock," author, "It's Easier Than You Think" and "Funny, You Don't Look Buddhist"


David Daniels, M.D., psychiatrist, professor, Stanford University, author, "The Essential Enneagram," and speaker on the dynamics of forgiveness

Richard Tarnas, Ph.D, author, "The Passion of the Western Mind."

Eric Maisel, therapist, coach, author, "Fearless Creating" and "Staying Sane in the Arts"


Douglas Engelbart, Ph.D, futurist, Silicon Valley pioneer, inventor of the computer mouse, windows and hypertext, author, "High-Performance Organizations"


Thomas Plante, Ph.D professor at Santa Clara University, psychologist and author, "Faith and Health"

Rene Girard, Ph.D, professor emeritas, Stanford, author, "Things Hidden Since the Foundation of the World" and "Violence and the Sacred"

Scotty McLennan, Dean of Religious Life, Stanford University, "Finding Your Religion."

Frank Barron, Ph.D, pioneer in the study of creativity, author, "Creators on Creating"