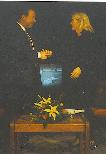 Karen O'Leary with Leonard Shlain of "Art & Physics"
Karen O'Leary Engelbart is an independent writer and producer based in the San Francisco Bay Area. She has written for both East and West Coast organizations including Stanford University, the San Francisco Chronicle, KQED, Sunset Magazine, McGraw-Hill and Business Week. (See "Details" for an extended list of business communication.)

Writing & Reporting: KO's magazine and web articles include "Entrepreneurship Helps Education in Developing Countries," "Sharing the Wealth," "The Creative Mind," "Chemistry for Success," "An Ode to Grace, Civility & Good Will," "Leadership Styles," "High Tech Heroics" and "Masterminds." (See "Summaries" for complete list and links.)

Entrepreneurship Helps Education in Developing Countries - Street children in Mexico launch successful businesses with micro loans. Children who live and beg near train tracks in India become the center of academic activity, learning their lessons through song, dance and drama. http://www.gsb.stanford.edu/news/headlines/2006internatldevconf.shtml
Stanford Graduate School of Business Web Site: Top Stories - May 2006

The Creative Mind - Creativity and innovation lead to great fortunes, startling epiphanies, redeemed relationships and a world that functions better for the evolution of humankind. This article looks at the art and science of creativity. http://www.karenoleary.net/articles.html

David Geffen -- legendary film and record producer -- says good instincts play better for him than good plans. Speaking ad lib to students who have been strategizing since kindergarten to arrive exactly where they are -- the Graduate School of Business at Stanford -- Hollywood billionaire David Geffen reports that he never had big plans as a child. He never thought he could be successful. Geffen created wealth for celebrity clients and himself by his good instincts, good taste; and by surrounding himself with smart people. http://www.gsb.stanford.edu/news/headlines/vftt_geffen.shtml. Stanford Graduate School of Business web site: Top Stories - June 2006


Television Production

Karen O'Leary Engelbart's television productions include scores of interviews with internationally-acclaimed authors including Sylvia Boorstein, "Funny, You Don't Look Buddhist;" John Beebe, "Integrity In Depth;" Douglas Engelbart, Co-Evolution and Collective I.Q., Huston Smith, "The World's Religions;" and Leonard Shlain, "Art & Physics."

Co-founded, produced and hosted by Karen Engelbart, "The Quest," features thought leaders and visionaries in the realms of religion, education, social work, philanthropy, psychology, spirituality and bioethics. In its initial year, "The Quest" was reviewed in the press as a program similar in stature and significance to Bill Moyers' PBS series on myth and the hero's journey with Joseph Campbell. Cultivating cultural and cosmic heroism, leadership, integrity, commitment, justice, and charity are chief goals for the program. It was also created to promote understanding among diverse faith traditions and to inspire in viewers a deeper understanding of and commitment to their own values and beliefs.